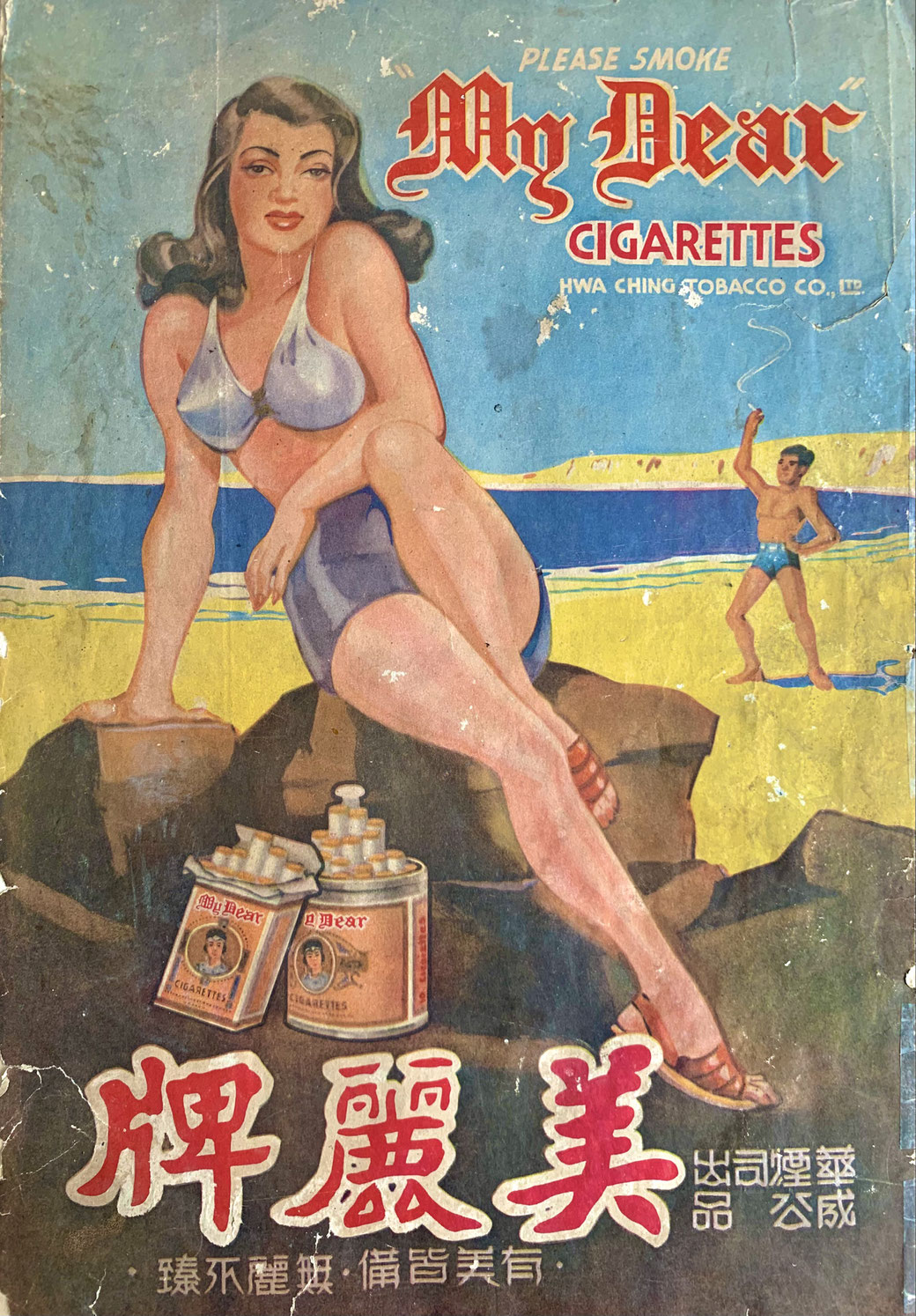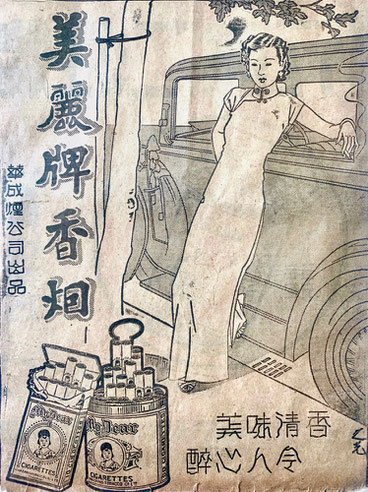 My Dear, or Měilì (美丽牌) meaning "beautiful" in Chinese, was the most popular Chinese cigarette brand out of Shanghai during Republican China. Since its inception it was famous for the attractive, confident and modern "new women" featured in its advertisements, ubiquitous across billboards, magazines and newspapers. Its Chinese slogan 有美皆备,无丽不臻 literally means "everyone wants the beauty because without beauty there is no completeness" but in more creative terms can be translated to "If you have beauty (=Meili) you have everything"!
The brand was launched in 1925 by Hwa Ching Tobacco (华成烟草股份有限公司) as a consequence of the May 30th incident which triggered nationwide boycotts of foreign products and a wave of new brands launched in protest by local Chinese manufacturers. The two dominant tobacco producers, British-American Tobacco (BAT) and Nanyang Brothers (which was mostly Chinese-owned but Japanese-invested), suffered tremendous losses, while local producers like Hwa Ching jumped on the wave of patriotism and flourished.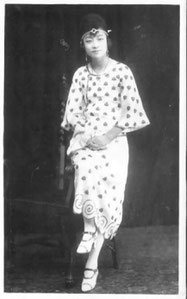 The first batch of My Dear cigarettes became an instant top seller and sold out within three days after launch. Even though, or rather because, it was not without controversy: Hwa Ching's design agency Zhiying Studio had simply cut & pasted a magazine image of renowned Chinese opera singer Lu Meiyu (吕美玉) as the logo of My Dear, which was used on all packaging and advertising materials.
While initially flattered, the star eventually took Hwa Ching to court and ended up receiving a compensation in the form of royalties as part of a settlement reached in 1927.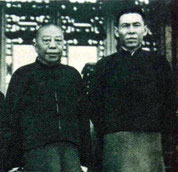 The deal was allegedly brokered by the infamous Shanghai gangster bosses "Pockmarked" Huang and "Big-Eared" Du who intervened on Lu's behalf. As a result of the settlement, which was widely reported in the press, the brand became even more popular - so much so that eventually in 1933 Hwa Ching bought out Lu Meiyu entirely with an additional lump sum payment of more than 20,000 silver dollars. By then Hwa Ching had become the largest Chinese-owned tobacco manufacturer second only to Nanyang Brothers.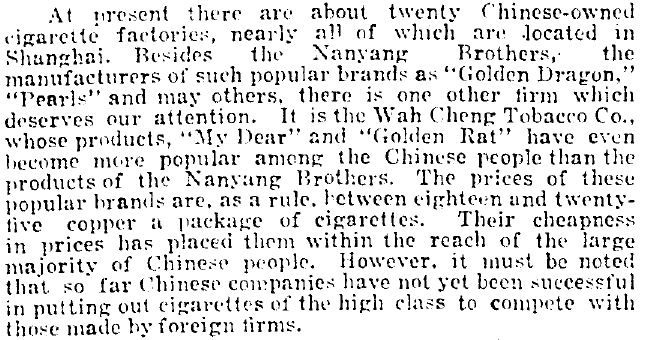 The company's workforce grew from 140 in 1924 to 3,500 in 1934 with 53 cigarette machines at the Shanghai Yangpu factory. Together with Hwa Ching's second power brand "The Rat" (金鼠牌) the highly industrialized production "turned out 20 million cigarettes daily" (!), the China Press reported in December 1934. An insane number at first glance, but considering that annual consumption in China in 1934 was approx. 66 billion pieces of cigarettes, an absolutely realistic figure amounting to approx. 10% market share, which still paled in comparison to British American Tobacco that held a staggering 55% share of the market.
Around the same time, another Western publication, the China Weekly Review, equally praised Hwa Chings unprecedented success but pointed out that "it must be noted that so far the Chinese companies have not yet been successful in putting out cigarettes of the high class to compete with those made by foreign firms". A fact that would soon change in favor of My Dear in a rather unexpected turn of events...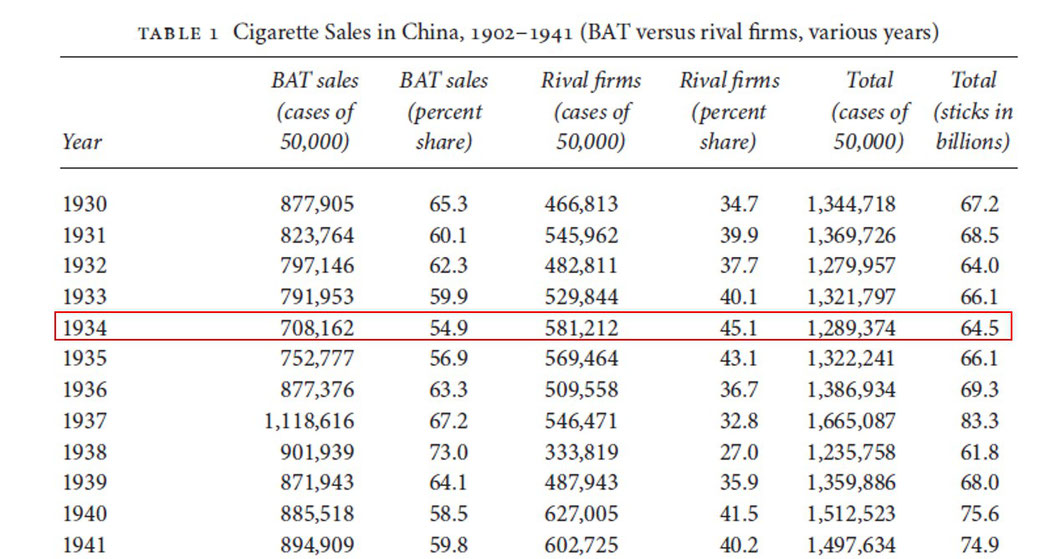 The immense success of My Dear created at least 160 copycat variants from other Chinese manufacturers. It even lured the mighty BAT into launching a look-alike brand in the early 1930s called "Belle of China" or Huá fāng pái (华芳牌) in Chinese. For this rather pathetic attempt, rivaling opera actress Pan Xueyan (潘雪艳) was commissioned as brand ambassador and featured on Belle of China's logo with a design strongly reminiscent of My Dear's. BAT soon got into legal troubles with both Pan as well as Hwa Ching and was forced to discontinue the knock-off after 1933. 
In celebration of the legal victory and to taunt the Western incumbent Hwa Ching launched an ad campaign in English targeting the foreign population of China's international settlements, which, with some interruptions, ran from 1934 to 1946 and attacked BAT on its own home turf.
At the outbreak of the Sino-Japanese War in 1937 the main factory in the outskirts of Shanghai was shelled by the Japanese army and suffered heavy fire losses. Hwa Ching had no choice but to rebuilt it within the safe boundaries of the International Settlement and transfer all production, although with limited capacity of only 530 workers and 21 machines. When the Japanese entered WWII and also occupied the foreign settlements in late 1941 the company came under Japanese control. The only silver lining was that its British-American competitor BAT got hit even harder: all its assets were seized, the foreign staff interned and production under new Japanese management came almost to a standstill for the next 4 years. While no market share data is available for that period, statistics from the largest Chinese newspaper Shenbao show that e.g. in 1943 15% of all annual tobacco ads were booked by Hwa Ching associated brands but only 5% by brands formerly owned by BAT, indicating a massive loss in market share for the previous number one player.
Hwa Ching gradually recovered after the war in 1945, but during the short-lived Nationalist rule once again struggled with BAT, which lobbied to re-establish its tobacco monopoly in China. While BAT was successful in reclaiming control of its assets and between 1946 to 1949 the Chinese market once more became one of BAT's most important, sales reached little more than one third of their pre-war peak. This takes us right to the time of our Hwa Ching pin-up advertisement and explains the sultry nature of its design which definitely took its sex appeal up a notch compared to My Dear's already provoking 1930s style ads created by daring commercial artist Xie Zhiguang (谢之光). Hwa Ching had little to lose in attempting to regain its former dominant position of My Dear, beating BAT once and for all in this particular sub-segment and did not shy away from emulating the prevalent erotic 1940s American pin-up style popularized for and by the US G.I.'s overseas.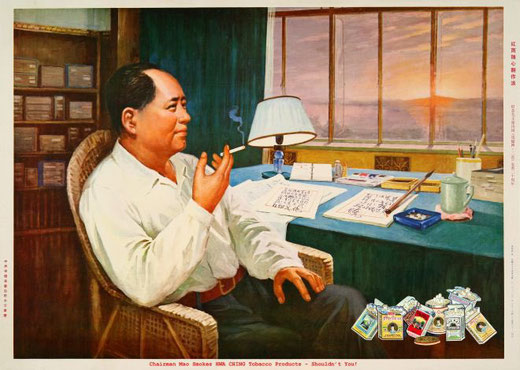 After the Communist revolution in 1949 BAT was eventually expelled from the market in 1953 and Hwa Ching flourished once again. Unlike most Chinese industrialists, Zung Tso-sung (陈楚湘) the General Manager of Hwa Ching and his co-founders remained in the mainland and were allowed to continue to operate their company. Apparently at one point even Chairman Mao, a notorious chain-smoker, endorsed Hwa Ching cigarettes (before he famously switched to the Zhongnanhai brand in the 1960s) - although this advertisement poster might be fabricated and is of unknown provenance.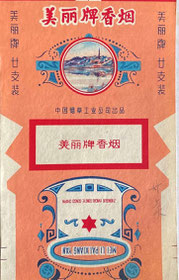 Like all businesses of that period though, the company eventually became a public private enterprise in 1955. Soon after, the logo was changed to an image of the Baota Mountain in Yan'an, marking the end of Lu Meiyu's famed emblem. Gone were also the days of spicy pin-up advertisements... During the Cultural Revolution in 1967 the My Dear trademark was transferred to the Jiangxi Nanchang Cigarette Factory (江西南昌卷烟厂) who further neutered the iconic brand and renamed it to "Magnificence" (壮丽牌) while re-designing the logo with a Great Leap Forward type farm industry theme, finally wiping out all of My Dear's "beautiful" legacy.