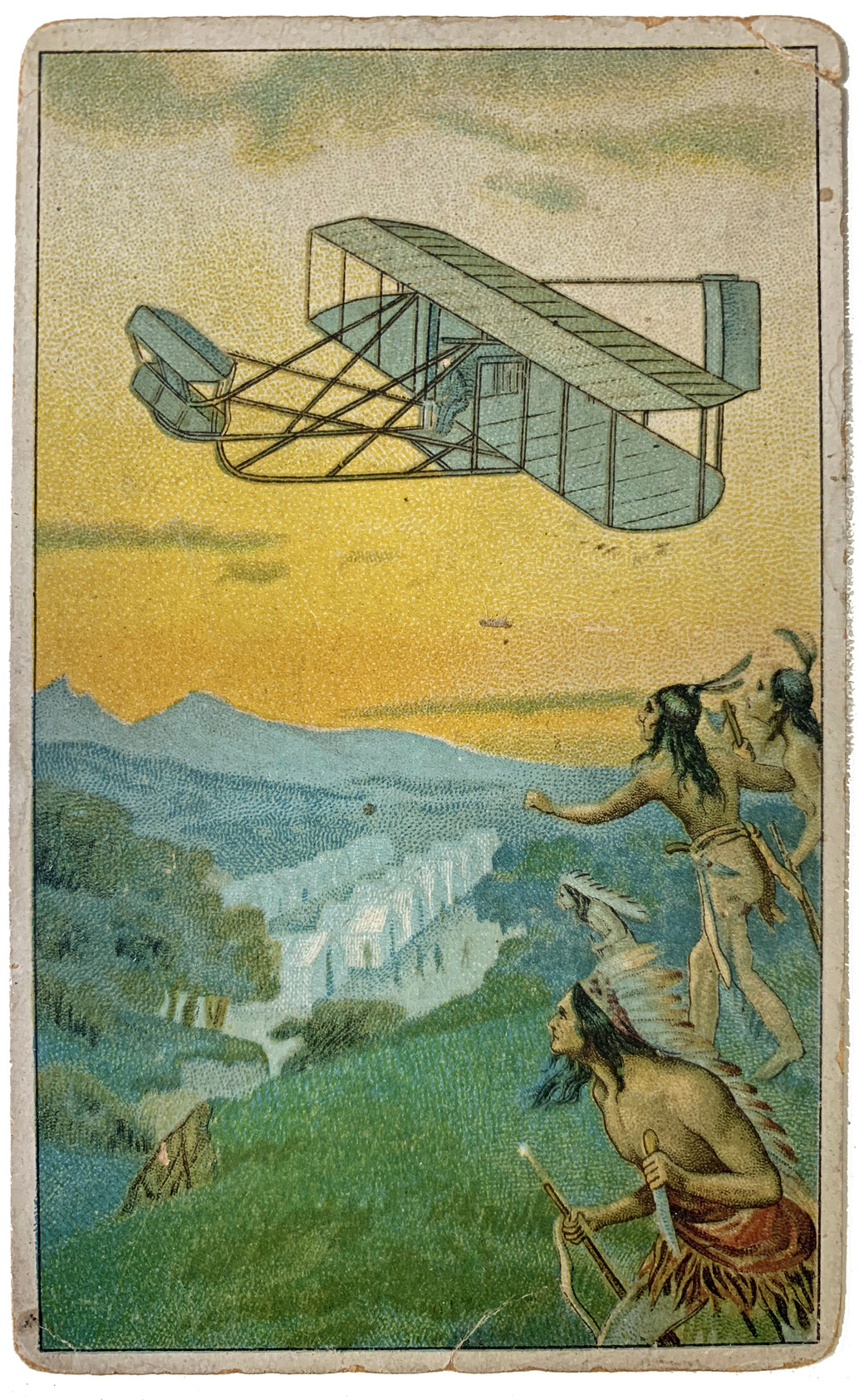 While there is some debate over what event exactly marked the end of the American Indian Wars, it is commonly considered to have been the Battle of Wounded Knee in December 1890. The same year the US Census Bureau broadcast the closure of the Frontier, meaning that in the West there remained no more apparent tracts of land without settlers. What we do know for sure is that almost exactly 13 years later, on a rather windy December morning in 1903, the brothers Wright launched the first successful flight of a motor-powered airplane in Kitty Hawk, North Carolina. 
An illustration depicting a 1905 Wright Flyer model III whizzing over a group of Tomahawk-wielding Indians is thus by itself already quite a bizarre anachronism, but the fact that this card was evidently circulated in Qing Dynasty China makes it even more mysterious. To unravel its backstory, we have to travel back again in time some 80 years and to yet another geography: Prague, Czech Republic - then part of the Austrian Habsburg Monarchy.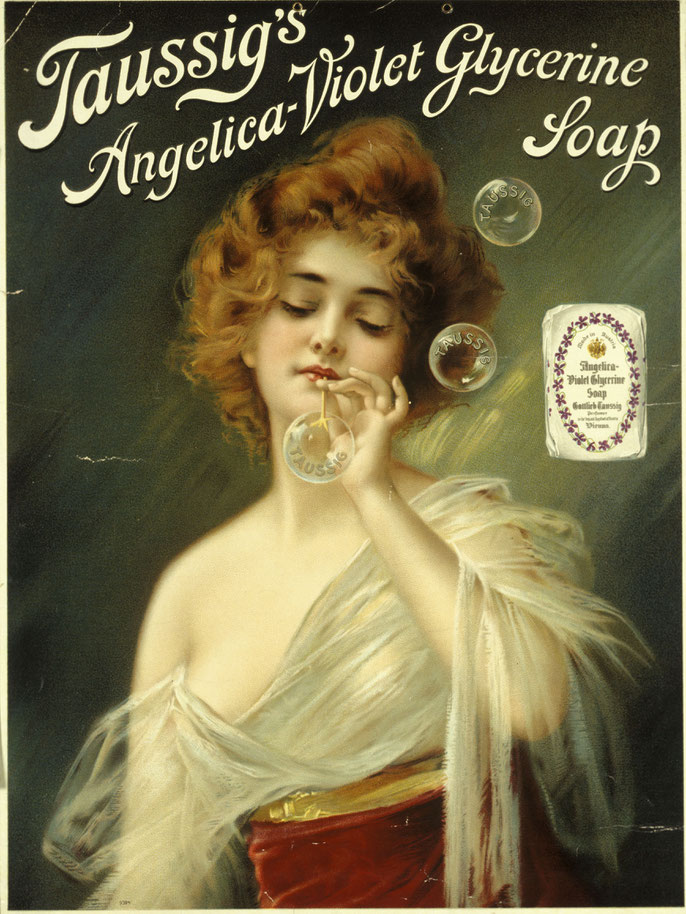 Gottlieb Taussig: Soap Maker and Perfumer to the Imperial and Royal Court of Austria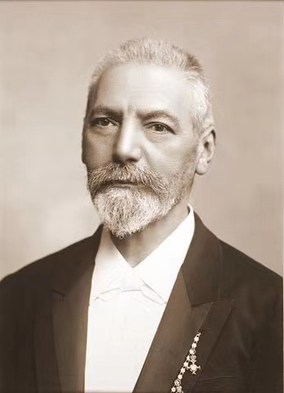 In a time when Bison still roamed freely across the American prairies, Gottlieb Taussig was born to a Jewish Austrian Family in 1833 in Prague, Bohemia. As a young man he moved to the capital of the empire, Vienna, looking for work during the mid 19th century economic boom labelled the "Gründerzeit" or "founders' years" in English. And a founder he himself soon became: in 1854 Gottlieb launched a company which in 1857 erected its own factory to manufacture soap, perfumes and candles in Gaudenzdorf in the outskirts of Vienna. 
Business was thriving and the perfumer Gottlieb Taussig eventually became official purveyor to the Austrian Imperial and Royal Court ("K. u. K. Hoflieferant"). 
Only two years after Lieutenant Colonel Custards devastating defeat at Little Big Horn, Gottlieb Taussig attended the Universal Exposition in Paris in 1878 where his booth was praised for "a remarkably pretty display of fine perfumery and toilet articles among which his glycerine soap and hard soaps, molded and colored in imitation of fruits, lockets etc. were especially worthy of note".
Now a respected industrialist, Gottlieb Taussig rose up in the ranks of the Viennese high society acting among others as member of the board of the Jewish Community of Vienna ("Israelitische Kultusgemeinde", a state mandated organization representing the at the time approx. 70.000 Jews of Vienna) and elevated to Knight of the Imperial Austrian Order of Franz Joseph.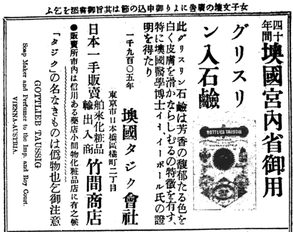 By the 1880s the enterprise expanded its business to overseas exports, producing packaging and advertisements for its "36% Carbolic Glycerine Soap" in English language. Soon the soap was successfully sold in places far beyond the Austro-Hungarian empire such as British India and even Japan. A 1915 special consular report by the US Bureau of Foreign Commerce went as far as stating  that "Gottlieb Taussig's Austrian soaps are the best-known brands in the Indian market"! The report continued that "Taussig's Household toilet soap was sold chiefly to the Chinese, who appear to prefer it to other brands, while Taussig's Royal soap was sold to the richer class of Bengalis".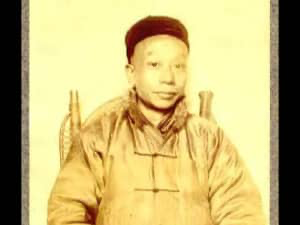 From a steamer passenger list it appears that Alfred Taussig, the son of Gottlieb, was sent to the Wild East and visited Shanghai in 1887 to explore opportunities in the Chinese market and appoint an official sales agent. In a Taussig family photo album from the collection of Austrian Sinologist Dr. Friedrich Zettel a photograph is found labelled "circa 1905 Chinese staff member of Gottlieb Taussig Co. in Shanghai". As no records of a formal incorporation in China exist, we can assume that these staff members were employed on behalf of Gottlieb Taussig by the merchant Alfred had granted distribution rights some years earlier: Kirchner & Böger.   
Kirchner & Böger - Bringer of Storms
On a cold December day in 1866, Captain William J. Fetterman disobeyed orders and spurred his men across Lodge Trail Ridge in pursuit of a group of retreating Lakota Sioux, Arapahos, and Cheyennes. He saw a perfect opportunity to punish the tribes for harassing travelers on the Bozeman Trail and attacking wood trains sent out from nearby Fort Phil Kearny. In a sudden turn of events, his entire command of 80 men was, within moments, annihilated marking the beginning of the two year Red Cloud's war. Meanwhile across the Pacific in China, John Alfred Kirchner, an assistant in large German trading house Siemssen and Co., and Heinrich Böger, entered into a partnership to conduct business as merchants and commission agents under the name of Kirchner, Böger & Co in Shanghai. As Chinese name they chose "Shunli" 顺利洋行 meaning "smoothly". Herr Böger died in 1903 but the company remained active until 1918 when Germans still living in China were forced to repatriate.
Gottlieb Taussig soap box with brand label on the bottom (from the MOFBA collection)
A small surviving label on a 19th century Gottlieb Taussig's soap box from the collection of the M.O.F.B.A. tells the fascinating history of how Kirchner & Böger initially localized Taussig's brand and created its Chinese trademark. The "G.T." logo reveals the transliterated Chinese brand term 葛列兜色, pronounced "Gehlih Teuseh" in Shanghainese (but carrying no auspicious meaning whatsoever), and also showcases it's famous yet bizarre Chinese logo. American author John Stuart Thomson in 1913 described it as "a man-headed bird, which appeals to the humorous Chinese, whose hobgoblins are legion." It might come as a surprise to Western readers why a harpy was chosen to represent Taussig's - the figure in Greek mythology is traditionally personifying the destructive nature of storms, "flying faster than the wind and eating children and human souls". In Chinese Buddhist tradition however, the "Jialingpingqie" is a fantastical immortal creature with a human head and a bird's torso said to "dwell in the Western pure land and reputed to preach the Dharma with its fine voice". Sounds like Austria to us alright.
Superstition aside, it is also interesting to note that Kirchner & Böger, true to their name, smoothly embedded their own name on the trademark in both Chinese (lower middle) and English (lower right corner). Explainable though by the fact that the brand was created during the Qing dynasty period, when foreign firms could not file a trademark directly but had to use a domestically incorporated proxy holder.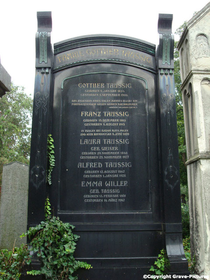 Gottlieb passed away in 1906 but his son Alfred carried forward the Taussig legacy and took over the company including the export business to the Far East.
In China Alfred soon restructured the firms distribution networks and appointed a new general agent - fellow Austrian Emil Fischer and proprietor of the trading firm Fischer & Co or "Shun Tai" (顺泰洋行) in Chinese. 
Fischer & Co. - An Austrian American Adventurer in China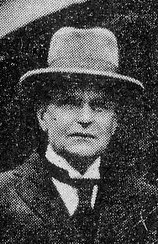 Emil Sigmund Fischer was an illustrious "Old China Hand" born in Vienna in 1865. A public accountant, banker, and merchant, he came to China in 1894 where he first worked for the Deutsch-Asiatische-Bank in Shanghai and later in Tienstin (now Tianjin). Besides his business endeavors Fischer travelled extensively and authored several travel books such as "Guide to Peking", "Travels in China, 1894-1940", "Through the Silk and Tea Districts of Kiang-nan and Chekiang" and "The Trans-Siberian Route". In 1909 he became official architect and contractor for construction of the buildings of Tsinghua University - Chinas most prestigious university.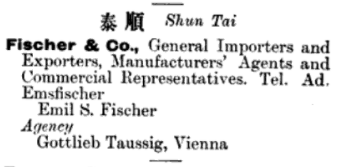 Over the years he lived between Shanghai, Tientsin and the United States. There he is most remembered for, after years of intervention and even debates in the Senate, having been granted US citizenship in 1924. A fateful decision, which ultimately cost him his life: As now American citizen living in China, Emil Fischer was interned in a prisoner camp by the Japanese in 1941 where he died shortly before the end of the war in 1945.
The Chinese business directories (the so called "Hong Lists") listed Fischer as merchant for Gottlieb Taussig until 1909 and from photos of the Austro-Hungarian concession of his building in Tianjin, we know that he represented Taussig there until at least 1911. Upon closer inspection of our "Indians & plane" card, though it is not Fischer & Co who is mentioned on the reverse but yet another enterprise in Qingdao, then called Tsingtau - a newly "leased" German colony on the Eastern Chinese shores and still famous today for its beer of the same name.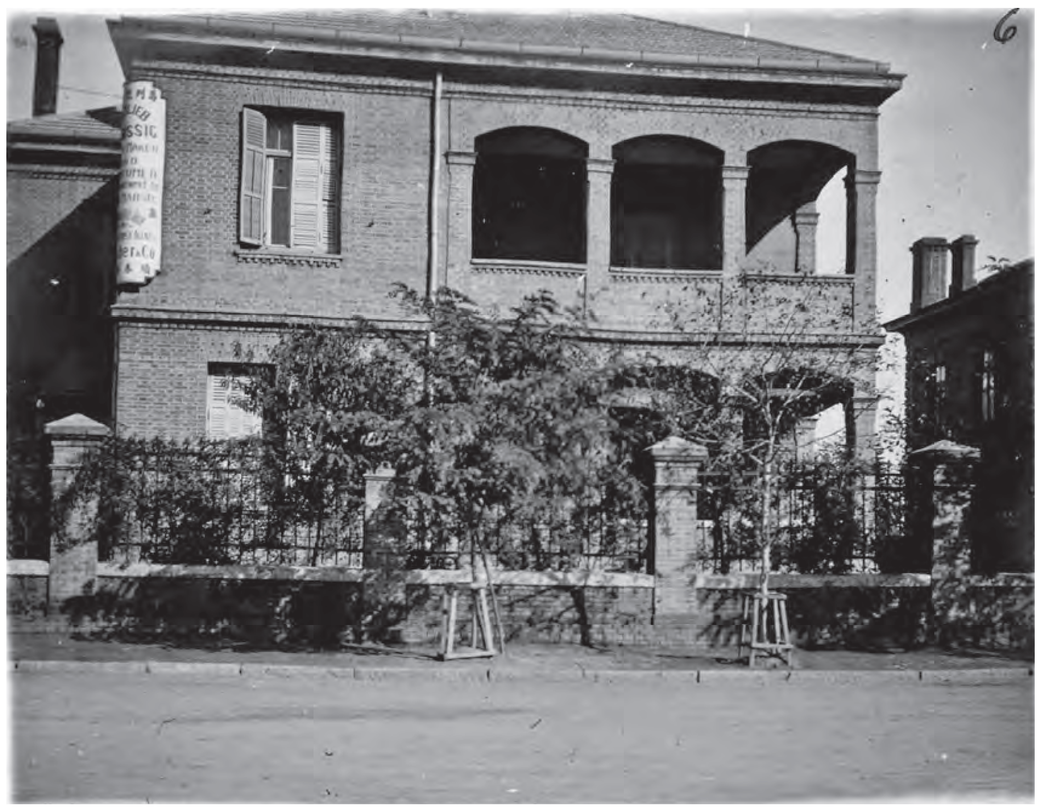 Sander, Wieler & Co - Prime Suspects of Cultural Appropriation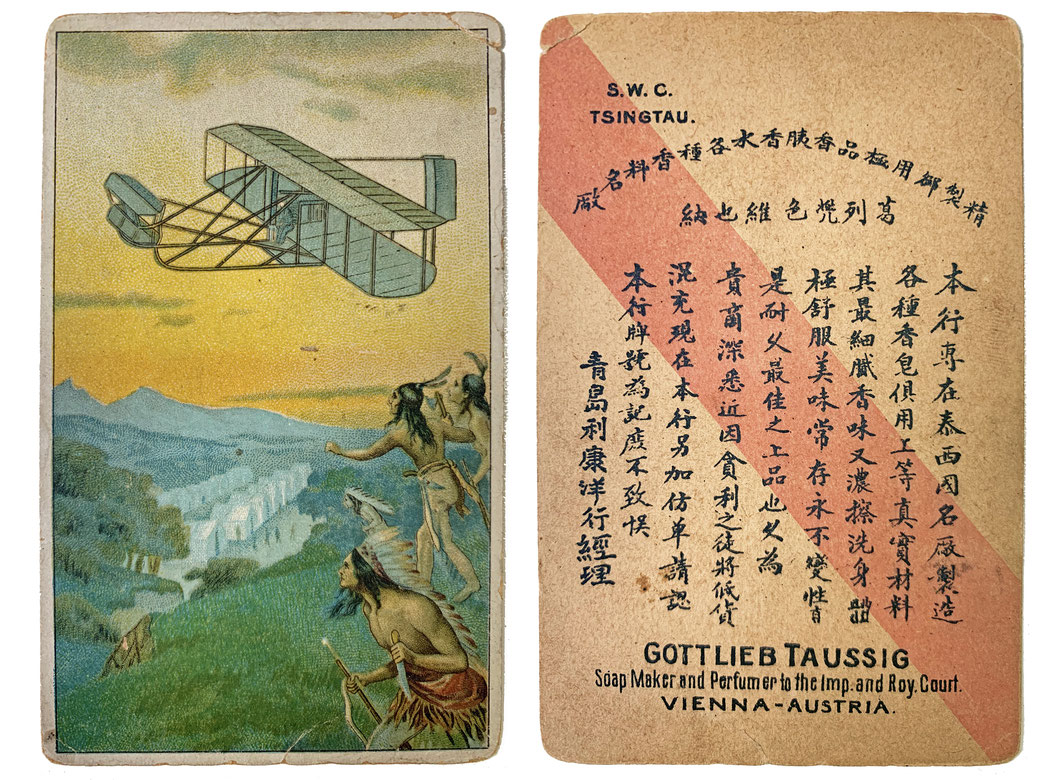 Fischer & Co theoretically covered both Eastern and Northern China through its Shanghai and Tientsin offices (which also served as his private residences), but because of his wide spread activities, such as the upcoming Tsinghua development project, frequent relocations and travels Emil Fischer seems to have not been too focused on his agency business. 
And so between 1911 and 1912 Gottlieb Taussig's appointed a new sales agent - a German shipping and trading firm by the name of Sander, Wieler & Co (利康洋行). The company had been formed in 1898 in Hong Kong by friends Gustav Wieler and Robert Becker, the authorized signatory of late Mr. Sander. The firm was notably larger than Fischers and maintained offices in several Chinese outports besides Tsingtau including Shanghai, Tientsin and Canton. It acted as Taussig's China representative until its liquidation in 1914.
It seems S.W.C. were the first to advertise Gottlieb Taussig in China through trading cards. Popularized by cigarette marketers, these collector cards were an extremely popular tool to drive brand loyalty and repeat purchases in the early nineteen hundreds. Maybe S.W.C. selected the Indians & plane image or maybe it was still Fischer because of his obsession with America. We also do not know what the other cards of this collector set looked like and they might have just been randomly chosen. Either way, the message of this particular card illustrated in simple visuals the superiority of modern technology and the dawn of a new age - be it in air transportation or soap making and if the crumbling Qing dynasty rulers agreed with it or not: Western industrialism had arrived in China. Lastly, it remains to be mentioned that the image was not exclusively created for Taussig's - a cocoa and cholate brand from Amsterdam called "Groots" used the very same picture for a trade card in Europe.
Alas, despite all the trademarks creativity and the exotic trade cards, Gottlieb Taussig never became that big of a brand in the Middle Kingdom where the soap category was dominated by the British Lever (subsequently Unilever) which later incorporated the China Soap Company who carried it's famous brands such as Sunlight, Lever Health Soap, Gossage's Magical Soap or Lux.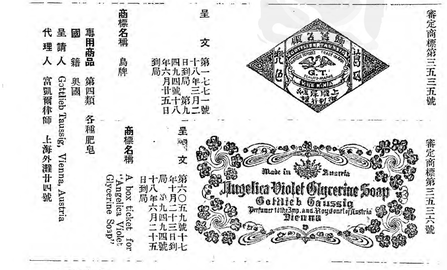 Alfred Taussig passed away in 1928 and the firms new owner, his son Dr. Stefan Taussig, lost no time to once more revitalize the China export business. Firstly, Gottlieb Taussig's grandson refiled both the trademarks for G.T. and Angelica Violet Glycerine Soap under the improved commercial law of the new Nationalist government which allowed the Austrian company to directly hold the trademark. Interestingly the G.T. logo even now still contained the Chinese "Hong-name" of Kirchner & Böger Co., Taussig's old agent who had ceased to exist over 10 years ago. A fine example of famous German durability.
Secondly Dr. Taussig shied no costs and hired the biggest and most reputable German trading firm in China, Carlowitz & Co, to prepare for the "Golden Age" of modern Chinese consumerism in the 1930s.
Carlowitz & Co. – the largest of the German "Hongs"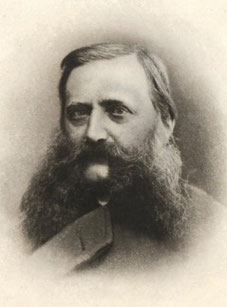 Carlowitz & Co. was established in 1846 in Canton by German merchants Richard von Carlowitz and Bernhard Harkort. Next to smaller German trading firms like Siemssen & Krohn and Melchers & Co., Carlowitz & Co. became by far the largest and most well-known German establishment in China. Its Chinese trade name - the so called "Hong name" - was 礼和洋行 (De Shang Li He Yang Hang).
Richard returned to Europe in 1873 and retired into private life settling down in Dresden where he died in 1886.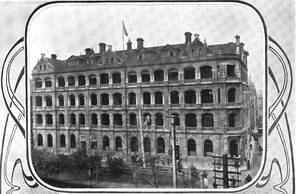 The firm entered Hong Kong in 1866 and in 1877 the Shanghai branch office of Carlowitz & Co was established. Another branch was opened at Tientsin in 1886 and Tsingtau in 1898 (a little later also in Tsinanfu). Soon Shanghai, with its central location, became the official headquarter of Carlowitz & Co. and the firm eventually moved to its own building on 670 Szechuen Road. The original structure was built in 1898 with large natural stones and red ganged bricks. It was the biggest architecture among all public concession buildings in Shanghai at the time and can still be visited today: 
The Carlowitz & Co Building in Shanghai today. Photos by MOFBA
In the early 20th century and before the outbreak of the Great War the firm employed over 300 Europeans and thousands of Chinese and Japanese. After the war the firm soon flourished again and by 1934 revenues amounted to 40 million Reichsmark which represented 34% of the entire German-Chinese trade volume! Three years later Carlowitz & Co's revenue had climbed to 60 million Reichsmark.
After picking up distribution rights for Gottlieb Taussig's in the 1920s Carlowitz & Co professionalized the brands China advertising strategy. Among others C&C once more created and circulated trade cards for Taussig's, this time though with idyllic European children's scenes. The Indians were finally defeated - both in China and in the USA where the last Apache raid occurred in 1924 when a band of natives, who were later caught and arrested, stole some horses from Arizonan settlers. This event is nowadays considered as the true end of the American Indian Wars and our trade cards seemingly strange illustration might not have been so wrong after all.
Gottlieb Taussig's trade cards listing Carlowitz & Co (C&C) as agent for China (from the MOFBA collection)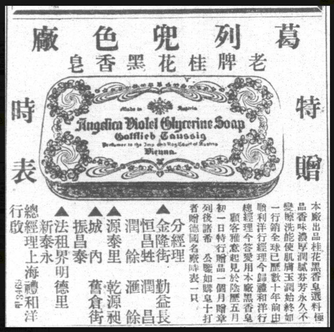 For the first time in Gottlieb Taussig's China history, Carlowitz & Co also booked adverts in China's largest daily publication the Shun Pao as well as other regional Chinese newspapers. While the publicity campaign only lasted throughout 1928, it surely had a tremendous impact on the brands awareness and generated a brilliant sales outlook for the approaching 1930s. Tragically however, Jewish owned businesses were soon boycotted in Germany after the Nazi party seized power in 1933 and Jews were stripped of their citizenship by the 1935 Nuremberg Laws. The Anschluss of Austria followed in 1938 and any remaining Jewish businesses in the then so called "Ostmark" were robbed from their Jewish owners ("aryanized").
With Germanys defeat in World War II, C&C was forced to cease its Asia business in 1945 and at the latest then also the well-soaped distribution channels of Gottlieb Taussig's in China dried up once and for all.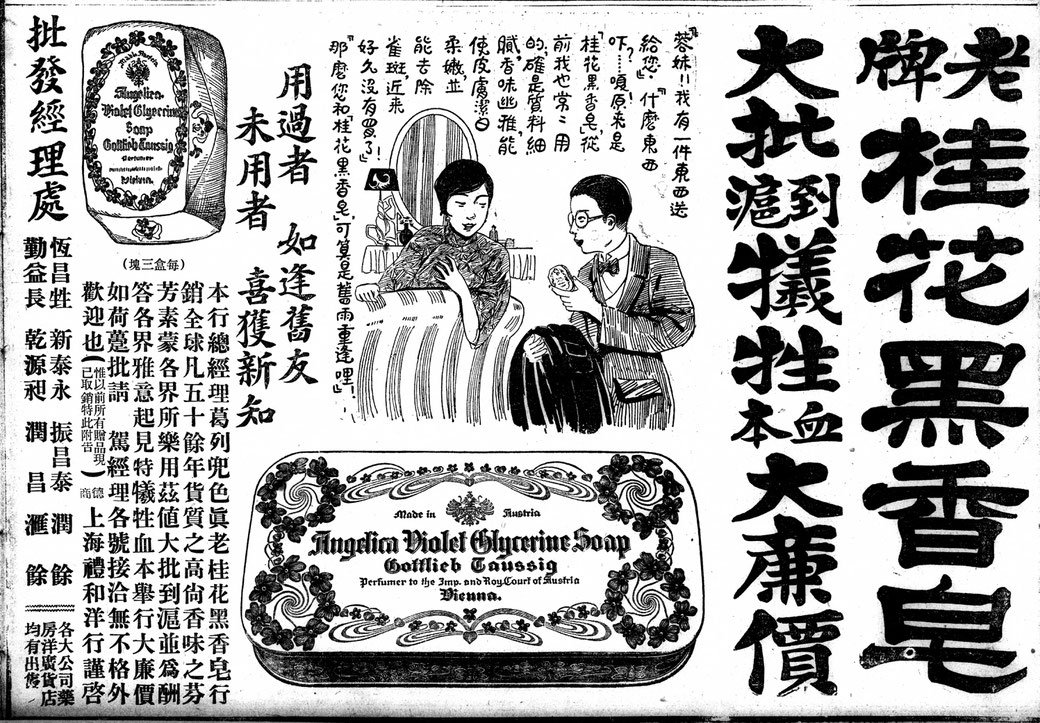 Dr. Stefan Taussig survived the Holocaust and continued to operate his grandfather's business in Austria until his death in the 1960s, when the company was discontinued. All that remains of Gottlieb Taussig's once famous global brand are our museums artifacts in China and the chimney of its factory erected on Schönbrunnerstraße No 215 in Vienna, Austria which stands to this day.