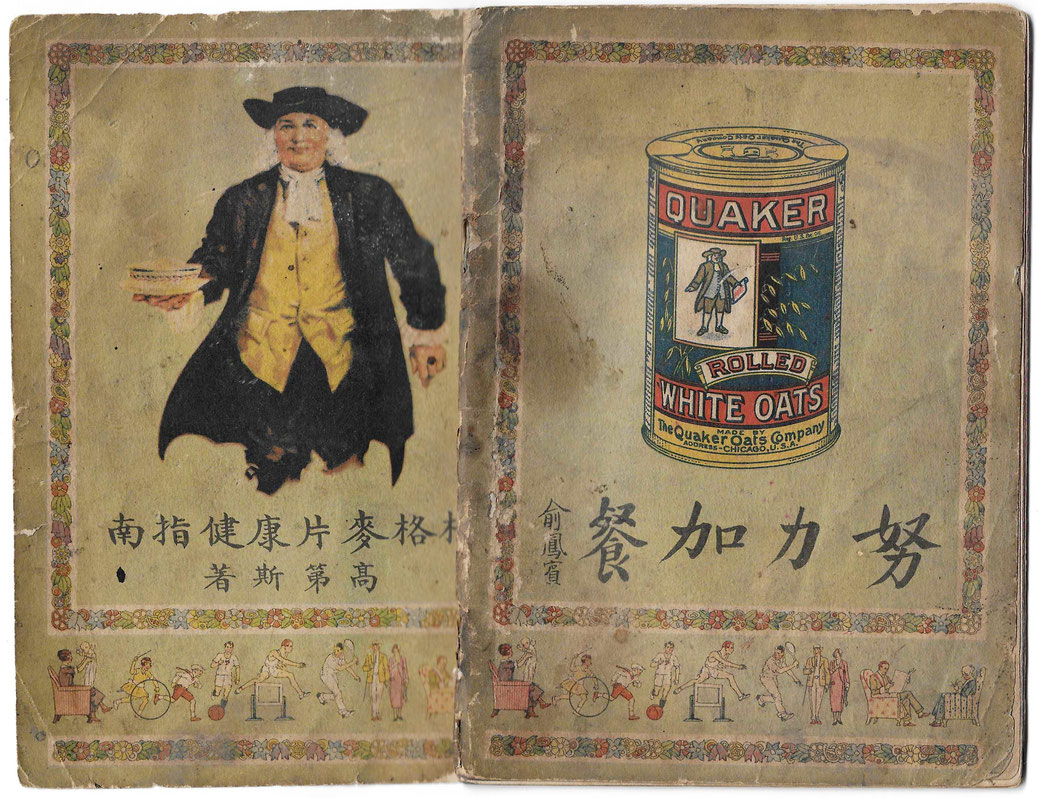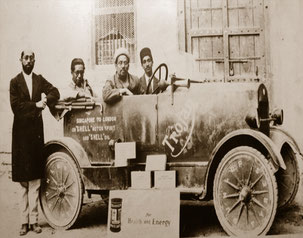 The Quaker Oats trademark was registered in 1877 by Henry Seymour, an Ohio milling company owner. In 1901 his former company was merged with several other producers under the newly formed Quaker Oats Company, founded by Henry Parsons Crowell, and soon started to sell its products internationally through global distribution networks. In 1908, Quaker Oats introduced the first in a series of cookie recipes on the box and the iconic cylindrical package made its first appearance in 1915.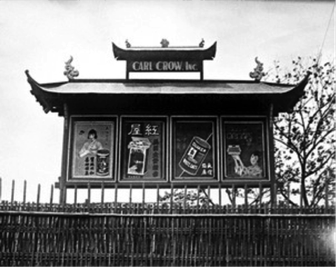 Quaker Oats had been distributed in the foreign settlements of China since the early 1900s but only in the 1920s outdoor billboards and consumer activation campaigns targeted at Chinese audiences were rolled out on a larger scale and under the localized brand name Guìgé (桂格), which is still in use today. In charge of the account was initially the American advertising agency Carl Crow Inc. in Shanghai, at least for the billboard related advertising. The ads were focused particularly on the health benefits for children and emphasized the nutrient density of oats compared to wheat. Distribution was first managed by American trading firm Muller & Phipps (同益洋行/贸勒洋行) which also represented Quaker Oats in other parts of the Middle & Far East, such as British India.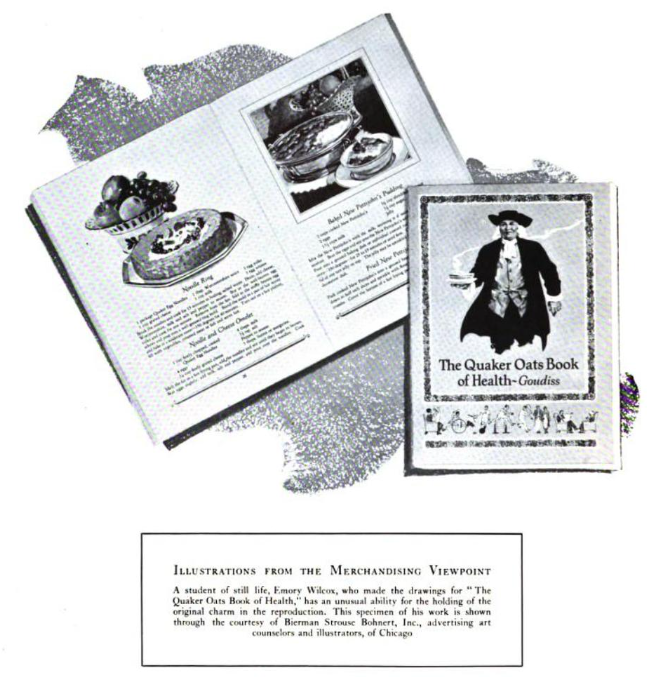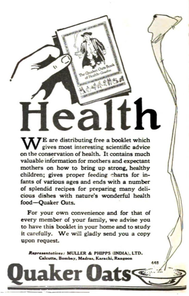 The "Quaker Oats Book of Health", written by American food expert and author C. Houston Goudiss, was created around 1923 by Chicago-based agency Bierman, Strouse, Bohnert, Inc. and illustrated by Emory Wilcox. It focused specifically on the nutritional value of the product and was subsequently translated to among others German and Spanish to be used by Quaker Oates for consumer education globally.
Muller & Phipps appear to have already advertised the original English version of the guide in British India in September 1923.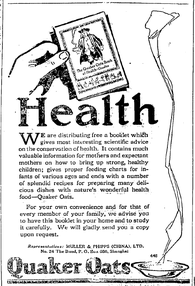 Then two years later, in September 1925, it was marketed to the foreign population of the international settlements in China, as print advertisements from that period show.
Presumably in the same year also the Chinese version was circulated, which likely was created by Carl Crow's agency. Most notably, some of the illustrations were localized by depicting Chinese children and adults in various settings. Chinese newspaper print ads that started to appear shortly after also explicitly mention the Quaker Oats health guide ("桂格麦片健康指南") which could be purchased by consumers for an additional cost of 2 (yuan) cents.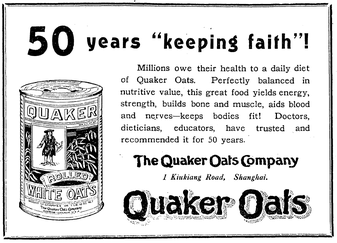 Despite the heavy marketing, sales unfortunately remained very modest. "The Chinese people are generally credited with being the most conservative of peoples when it comes to food and many a foreign manufacturer has given up the problem in despair after spending large sums of good money in an attempt to introduce some new necessity or delicacy to the Chinese appetite", W.H. Daub Far Eastern Sales Manager of Quaker Oats was quoted. Typical of him, Carl Crow in his book "400 Million Customers", gave it a more positive spin, writing "the only foreign food for which there is a steady demand in China is porridge, but that is so much like the native congee, or rice gruel, that its use as a breakfast dish involves only a slight adaptation and not a change in taste."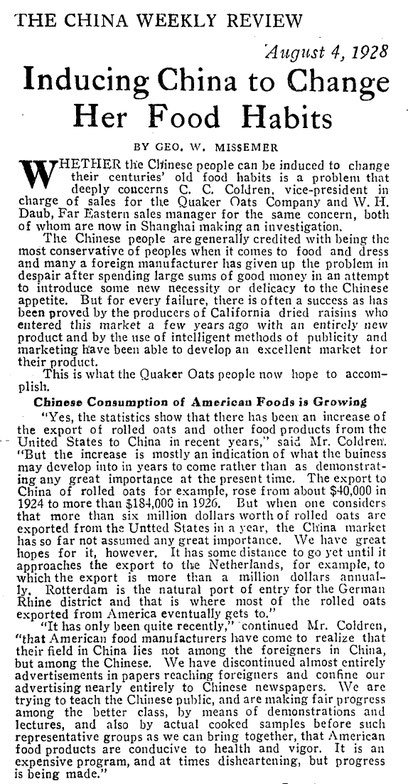 Nonetheless, the export to China of rolled oats, rose from $40,000 in 1924 to more than $184,000 in 1926. Encouraged by the growing market the Quaker Oats Company (桂格燕麥公司) established its own subsidiary in Shanghai on No 1 Kiukiang Rd. on the Bund (today's Jiujiang Rd.). In a 1928 article in the China Weekly Review, C.C. Coldren, Vice President of Sales laid out the status quo and plans going forward for Quaker Oats in China "When one considers that more than six million dollars' worth of rolled oats are exported from the USA in a year, the China market has so far not assumed any great importance. We have great hopes for it, however. It has only been quite recently", continued Mr. Coldren, "that American food manufacturers have come to realize that their field in China lies not among the foreigners in China but among the Chinese. We have discontinued almost entirely advertisements in papers reaching foreigners and confine our advertising nearly entirely to Chinese newspapers. We are trying to teach the Chinese public, and are making fair progress among the better class, by means of demonstrations and lectures, and also by actual cooked samples before such representative groups as we can bring together, that American food products are conducive to health and vigor. It is an expensive program, and at times disheartening, but progress is being made."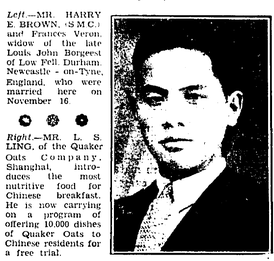 In the same year the account was taken over by Chinese advertising pioneer C.P. Ling's company the China Commercial Advertising Agency (C.C.A.A.). Among others C.C.A.A. expanded the print campaigns from previously focusing on the "child appeal" to also targeting single women, mothers and men promoting the health benefits of oats as breakfast dish to adults. The agency also supported the Shanghai Quaker Oats company with the roll-out of a promotional campaign offering 10,000 free sample dishes to Chinese residents in 1929. C.P. Ling's management of Quaker Oats also marked the end of our Quaker Oats Book of Health, which was no longer referenced in print adverts from there on.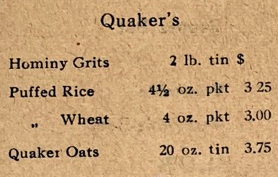 When the Second Sino-Japanese War started in 1937 Quaker Oats stopped all advertising in China, but it's products continued to be sold in the Mainland. A 1941 price list by Zung Lee & Co. from our collection reveals that a 20oz tin would have cost 3.75 (yuan) $, then the equivalent to US$ 0.23 and in todays inflation adjusted prices approx. US$ 4.09. Despite the steep increase in prices caused by the war then, still approx. 40% cheaper than today.
After WWII and the Communist Revolution Quaker Oats left Mainland China, only to return again in the 1990s. In 2011 PepsiCo acquired the Quaker Oats Company and in October 2015 announced the opening of their first Quaker Oats manufacturing facility in China, in Beijing. The factory included 30,000 square meters of production space, equipped with production lines with a capacity to produce 50,000 tons of Quaker oats annually. Overall, the breakfast cereal category is still relatively small in China today compared to other countries, but recently enjoyed double digit growth rates with Quaker as one of the dominating brands. Globally the company today holds an impressive 57% of the hot cereal segment.