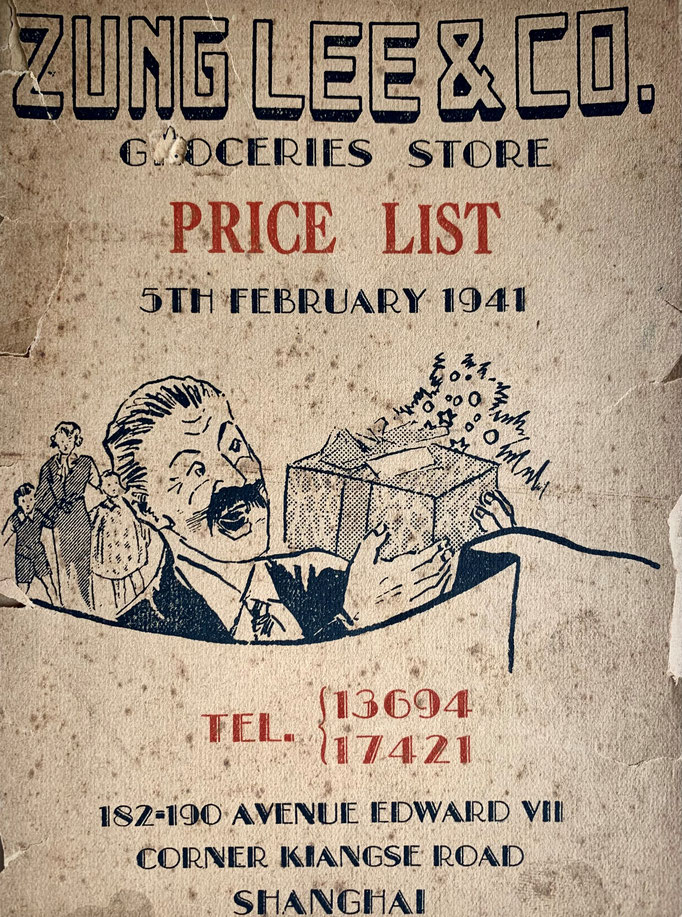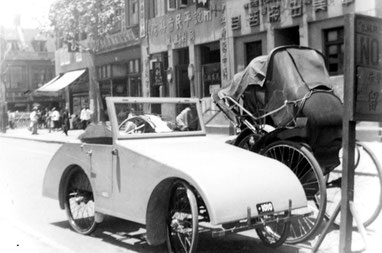 Another unique little piece of commercial and economic history during the Shanghai foreign concessions "Solitary Island" period - still managed by the Shanghai Municipal Council and the French authorities respectively, but surrounded by Japanese military forces. Supply from the Shanghai hinterlands was heavily restricted by the Japanese and left the concession's population with mostly overseas imported goods at increasingly high prices: In fact from 1939 to 1941 prices practically doubled as can be seen from the chart below. The February 1941 price list of Zung Lee & Co. Groceries Store on 182-190 Avenue Edward VII (now Yan'an East Road and then right besides one of Carl Crows old offices.) features a huge selection of such import brands across all categories. Prices are listed in $ = Chinese National Dollars and give a very interesting glimpse at the consumer price index and purchasing power across a wide basket of consumables. Especially since Zung Lee & Co. claimed "our prices are the most reasonable in town even if we say it ourselves". (scroll down for the full price list digitized at the end of the article)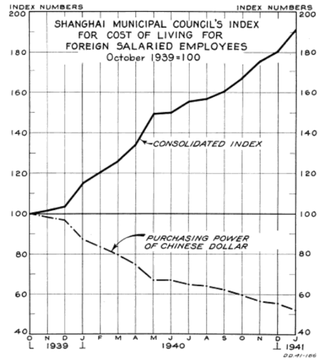 A sign of the times surely is the fact that around one third of Zung Lee's catalog is made up of alcoholic beverages (and all except one visual brand advert), although this might just be an overall reflection of the lifestyle of the foreign elites of Old Shanghai during it's almost 100 year existence. The constant boozing might also explain why nobody seems to have cared that the February catalog cover still features the key visual of dad holding up a wrapped gift against the Christmas tree... Then again Zung Lee & Co. did start as a wine and spirits merchant in the 1920s as newspaper ads of that time reveal. They also maintained at least one more location on 236 and 238 Woosung Road by the mid 30s.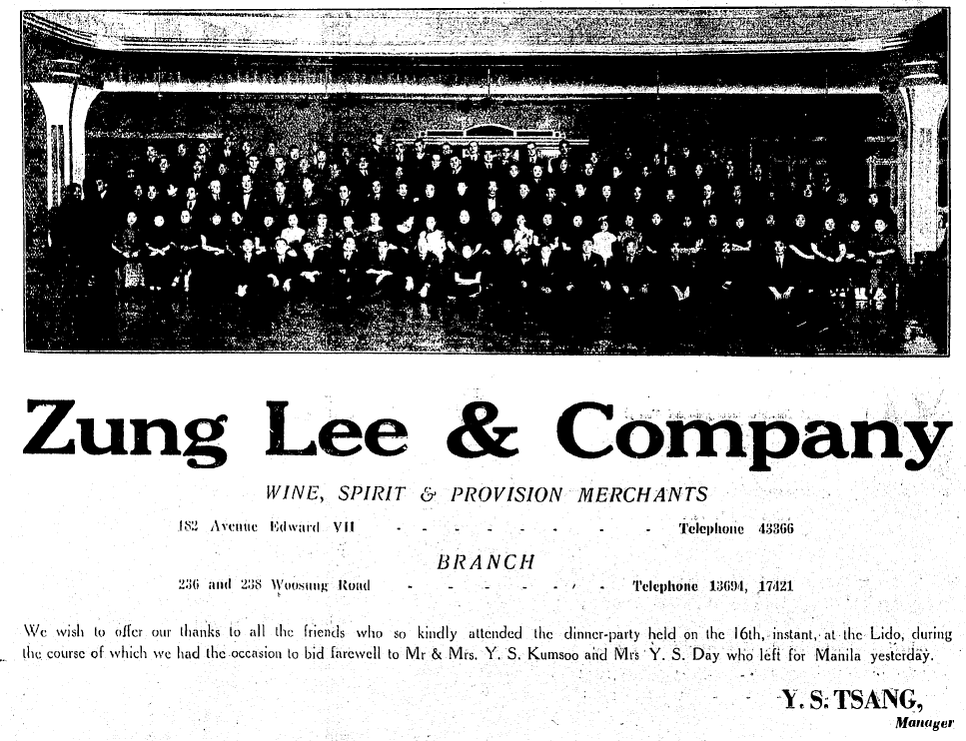 Lastly and most notably, Zung & Lee presumably already provided telephone orders and home delivery services stating "Kindly ring up 13694 or 17421 for any goods you require!". New Retail or Online to Offline (O2O) as it is called today in China, isn't that new after all.
Price comparison then and now
Below a table of selected branded goods from Zung Lee & Co., converted from 1941 CN$ to 1941 USD (1 Yuan = 1941 annual average of 0,06 USD) and then adjusted for inflation and converted to 2021 USD, followed by a comparison to the same or similar goods available in Shanghai today and converted from RMB to USD (1 RMB = 0,16 USD). Lastly it's should be considered that a foreign "white collar" Shanghai worker made a maximum of 1,800 Chinese National Dollars per month, which then equated to approx. 108 USD and today, adjusted for inflation, would be around 2,000 USD.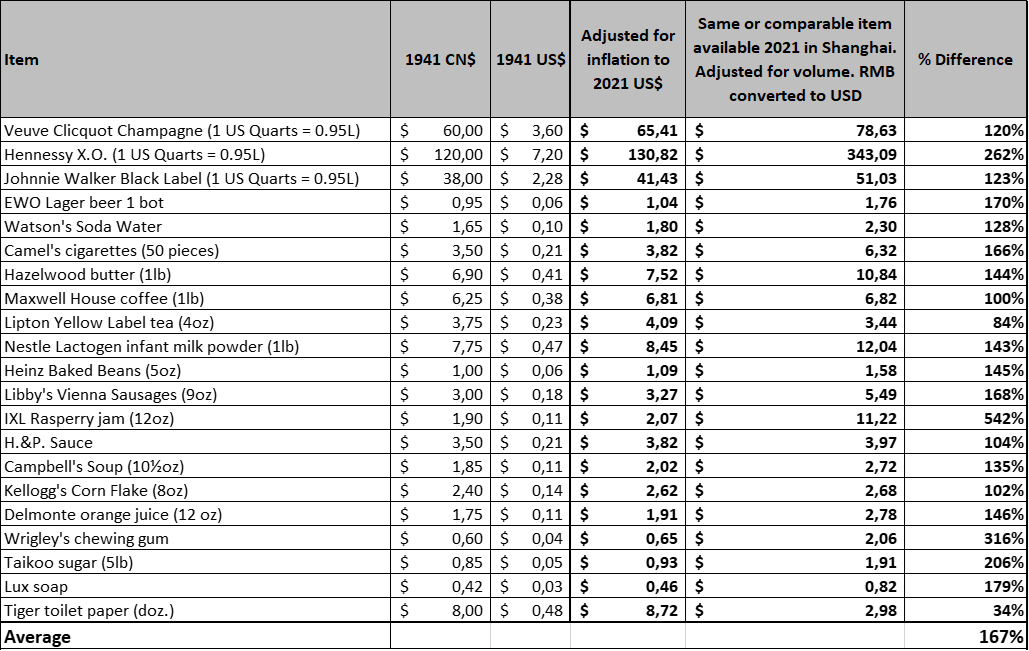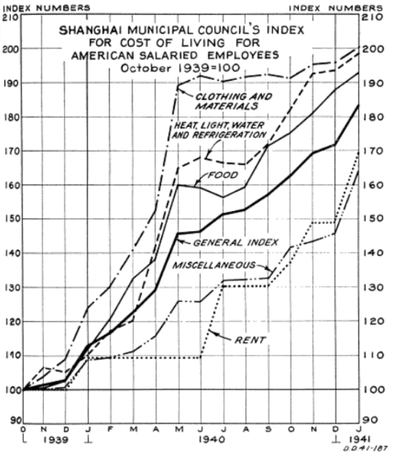 Joking aside, while the quoted income statistics don't consider the ultra-wealthy Shanghailander upper class (of which there were plenty), the actual situation in Shanghai '41 was of course far more grim. Firstly, although the max. monthly salary for foreign white collar workers was CN$ 1,800, the low end was merely CN$ 200! Secondly these statistics do not include the foreign unemployed nor the refugees such as White Russians or European Jews fleeing the Nazi regime. Lastly none of this considers the Chinese population of the foreign concessions which made up the vast majority of the residents - incl. more than one million who had sought refuge in the Settlement at the beginning of the war in '37 and lived there under devastating conditions.
Some further observations
"Prices are subject to market fluctuations and to change without notice. Cash on delivery, no discount, nett prices." - In fact we know from reports of the time that prices in the Shanghai foreign concessions could change up to two to three times per day!

Business hours from 7:30am to 9pm!

Alcohol advertisers include Johnnie Walker, Hennessy, Gordon's Dry Gin, Marchants Old Highland Whisky, Rhum Negrita, Courvoisier, Red Crown Whisky, Haig's Gold Label, Walker's Old Tom Gin and Walker's Old Tom Gin. All of which except the very last one still exist to this days as actively maintained brands. 

Notable Western FMCG brands already active in China during that time include Delmonte, Heinz, Maxwell House, Nestle, Lipton, Marmite, Libby's, H.P. Sauce, Campbell's Soup, Kellogg's Corn Flakes, Quaker's, Aunt Jemima's, Bakerite, Wrigley's chewing gum, Taikoo sugar, Arm & Hammer, Palmolive, Persil and Lux soap.

Cigarette brands carried include both import, foreign owned domestic (e.g. B.A.T.) and Chinese brands such as Pall Mall, Lucky Strike, Chesterfield, Camel's and Craven A; Capstan, Ruby Queen, Three Castles; Clipper and Graven A (sic!).

Mineral Waters dominated by Aquarius (Caldbeck & MacGregor) and Watson's vs. Laoshan Waters (Originated in 1900 by German entrepreneurs in Laoshan Qingdao).

Beer category fought out between the two largest local brands EWO (Jardine & Matheson) vs. U.B. (United Brewery) with lesser shelf space given to the other domestic (yet cheaper positioned) brands National Beer and Lion Beer. 

Surprisingly good selection of Burgundies & Bordeaux Wines - a cheaper bottle is about the same price as a pound of butter or a 1lb tin of coffee ($6-7).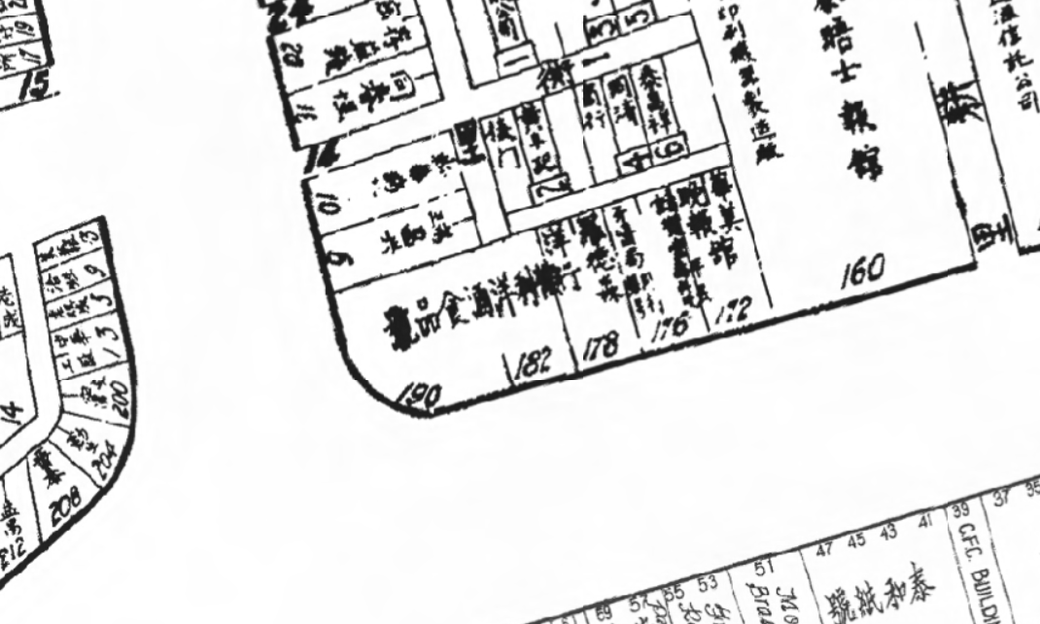 The full Price List