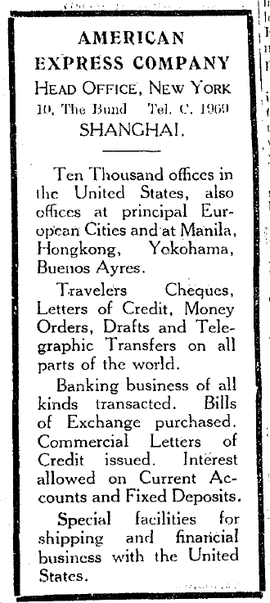 American Express was started in 1850 as an express mail business in Buffalo, New York. In 1857, the company started its expansion in the area of financial services by launching a money order business to compete with the United States Post Office's money orders. The American Express Traveler's Cheques were launched in 1891 and established American Express as a truly international company. It also acted as passenger agency for all type of bookings including for tourist trips such as with hotel reservations, ship or train tickets. 
Incorporated as "American Express Bank" (美国运通银行 "Měiguó yùntōng yínháng") the company opened its first China office in Shanghai on the Bund No 10 in December 1917. It also took over the offices of Wells, Fargo & Co. on Kiukiang Road (today's Jiujiang Lu) in 1918, when the latter was merged into the Federal Express Company. Subsequently the company opened an office in Beijing, located in the Grand Hotels des Wagon-Lits, which had been the first major hotel built in Peking's Legation Quarter in 1905. The China headquarter of Amex remained on No 8 Kiukiang Road (later renumbered to No 15, then No 158) until 1949, when it withdrew from China for the next 30 years. 
As one of the first foreign companies, American Express established a representative office again in Beijing in 1979 to redevelop the then-newly opened market. 
Experienced in travel-related network services, Amex successfully tapped into the mainland's tourism market by establishing a travel service joint venture with China International Travel Services in January 2002. The popular venture was the mainland's first Sino-US travel company. Then in 2020, American Express finally received approval for card clearing services in China, making it the first foreign payment network ever to do so.