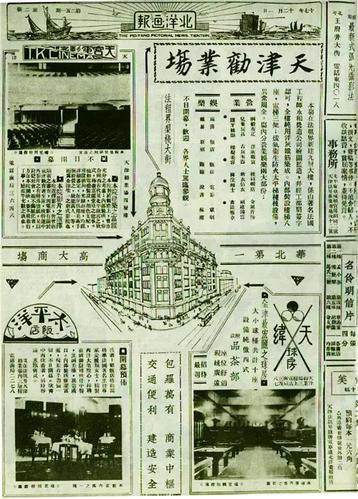 While old Tianjin (then called Tientsin), was second only to Shanghai as Western treaty port in terms of size and foreign population with its up to 9 concessions, the Quanyechang was absolutely on par with its contemporaries in Shanghai such as the Sincere, Wing On and Sun Sun. The English language press referred to it as Tientsin Bazaar or the Tientsin Exhibition of Industrial Encouragement.
Located on the busiest commercial intersection of Tientsin on Rue du Maréchal Foch and Rue de Chaylard in the French concession, it was the largest department store in North China at the time - eclipsing even its biggest rival the Chung Yuen Co. (中原公司). With initially 5 floors, covering an area of about 24,000 square meters and about 17,300 square meters in floor area to house 200 individual shops, it dwarfed its smaller competitors the Tienhsiang Market (天祥市场 "Tianxiang" in Mandarin), which had been established 4 years earlier just a few meters to the South-West, as well as the nearby Taikang market (泰康商场) opened in 1927.
The Founder: Xingqiao von Gao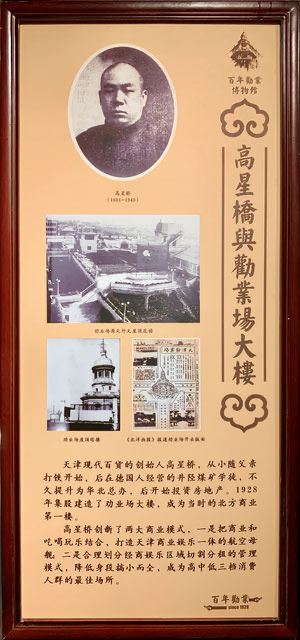 Quanyechangs founder Gao Xingqiao (高星桥), was born 1881 in Nanjing, Jiangsu Province. He was a blacksmith who made his money in German officer and industrialist Constantin von Hannekens Ching-Hsing coal mine (井陉煤矿). It was there where he learnt German and worked his way up from weighman to sales manager, Chinese Managing Director (comprador) in 1911 and eventually even temporary shareholder after Germanys defeat in World War I. For his contribution to the Ching-Hsing mine he was awarded aristocratic status by Kaiser Wilhelm II and granted the German "Von" title. In 1924 the mine was seized by the People's Army under general Sun Yue and Gao Xingqiao lost his comprador status. After von Hannekens death in 1925 he set off to invest his fortunes in the hottest emerging industry in China of the day: consumer retail.
The French authorities originally proposed to call the new department store "French Shopping Mall" but instead Gao Xinqiao followed the suggestion of one of his major shareholders, Prince, Zaizhen (载振) in reference to a late Qing Dynasty showroom which had been setup under that name in Beijing in 1905: Tianjin Quanyechang. The iconic entrance sign, which exists to this day, was created by the accomplished calligrapher Hua Shikui (華世奎).
And so the Quanyechang department store was officially opened on December 12th 1928 - less than a year after it's contestant the Chung Yuen Co. (中原公司) had been established in January of the same year in the nearby Japanese concession. They would form the "Two Big Department Stores" of old Tientsin and their opening marked the beginning of city's commercial heyday until the take-over by the Japanese and the dissolution of Tientsins foreign concessions.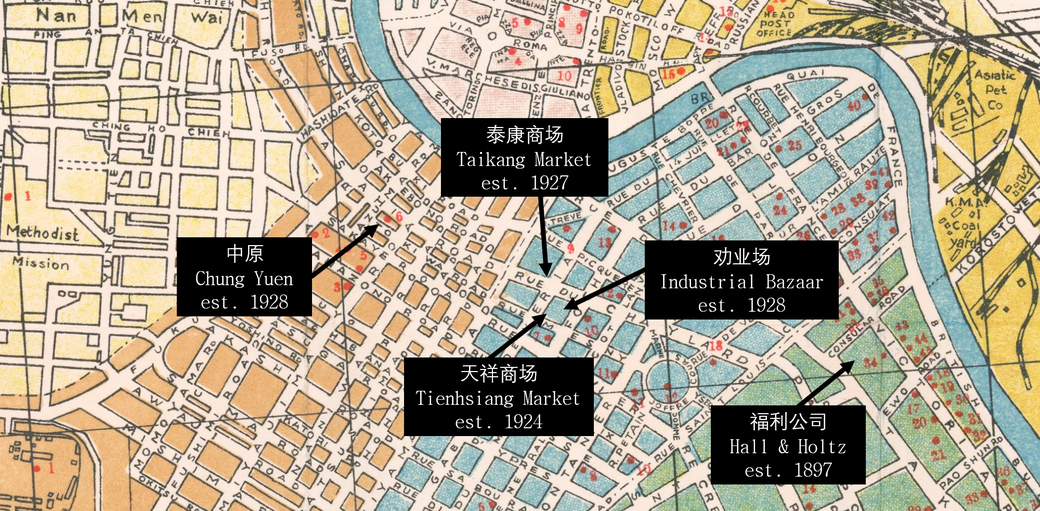 The Architect: Paul Muller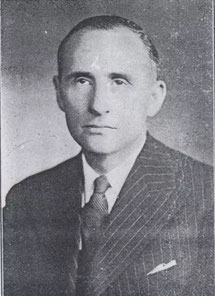 The building was designed in 1927 by French architect Paul Müller from Hunke and Muller and completed in 1928. Professor Müller was not only a member of the Engineering Department of the French Concession Administration but also taught architecture and interior design at the Tientsin Kung Shang College (L'Institut des Hautes Etudes Industrielles et Commerciales de Tientsin).
The celebrated architect later designed several other iconic buildings in Tientsin including the art deco classics the Leopold Building and the Bohai Building. The latter was once again co-financed by Prince Zaizhen and commissioned by Gao Xingqiao in 1936. It was named after his son Gao Bohai who operated the building.
Expansion in the 30s: Battle of the Heavens
In 1931 a sixths and sevens floor were added featuring an entertainment area called Eight Heavens with among others a theater, a bowling alley and teahouses. Legend has it that Gao Xingqiao chose to have all the names of his amusement facilities start with the Chinese word for heaven "tian", after Li Kuiyuan, the founder of the next-door competing department store "Tianxiang" bragged that his heavenly kingdom would ultimately crush the Quanyechang: Tianhuajing theater, Tianle theater, Tiangong cinema, Tianlu Tea Club, Tianwei billiards club, Tianwei Earth Club, Tianhuixuan theater plus a Tianwaitian open-air theater...
Quanyechang today: Old rivals finally united
After the liberation Tianjin Quanyechang was re-established as a public-private partnership in 1956. In April 1958 Quanyechang and its former competitor Tianxiang were merged - both legally and physically with an overpass connecting the two opposing buildings. Since 1992 the joint company continues to be operated as a shopping center by Tianjin Quanyechang Co., Ltd. and remains an irreplaceable landmark of Tianjin and an aide-memoire of the city's glorious past.
Gallery of the Quanyechang Museum
---