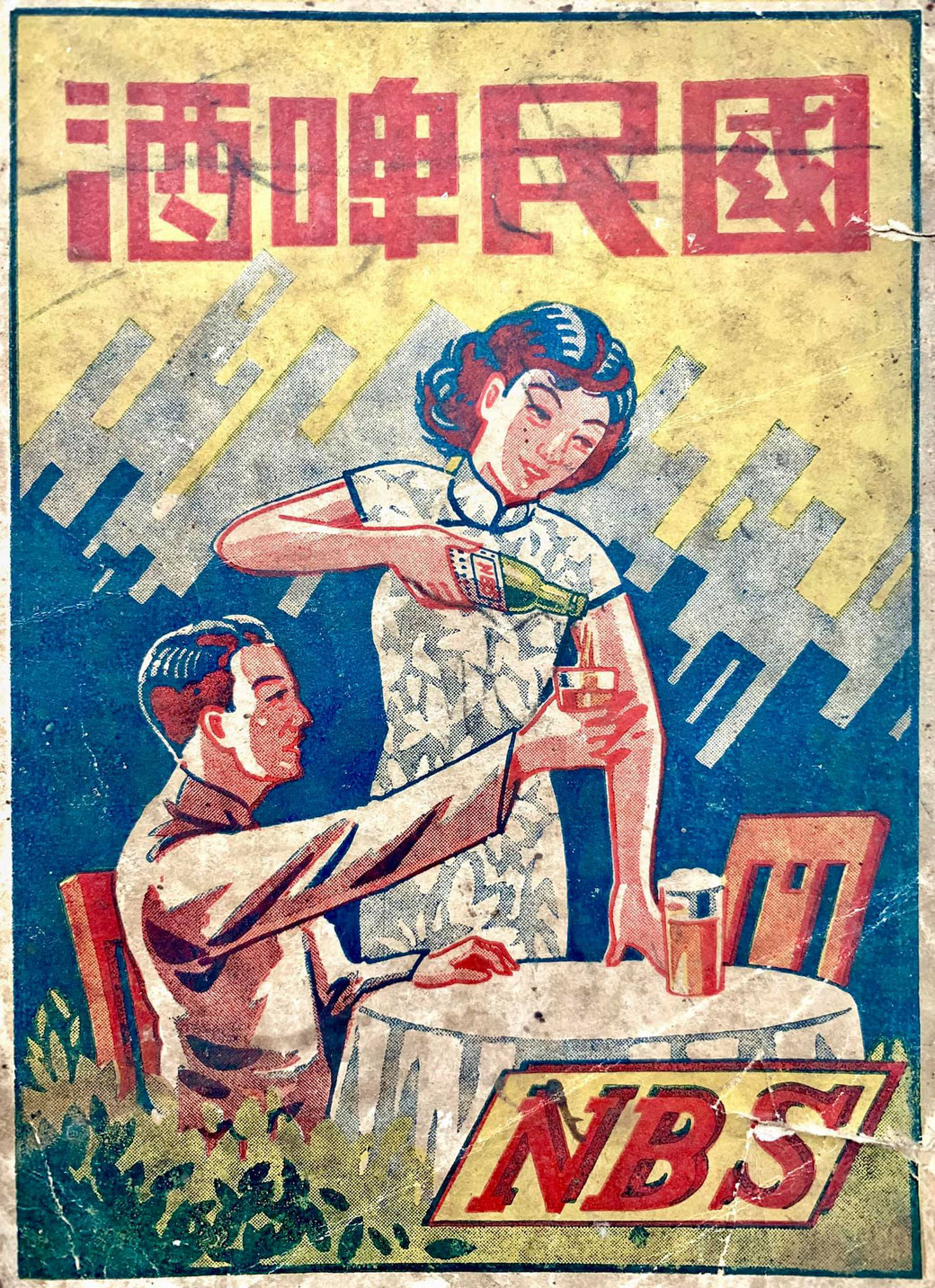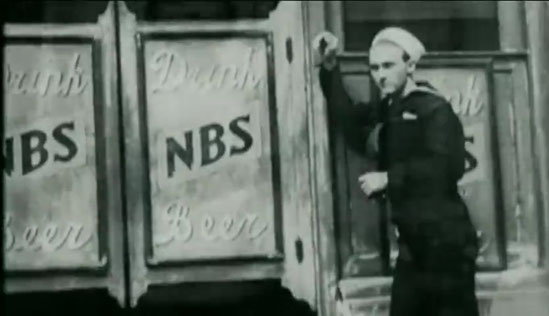 If in the mid 1930s you had asked any old Shanghailander, sailor or random tourist visitor about Shanghai's most prominent beer brand, all three of them would have undoubtedly agreed on U.B. Beer. The German, then later Scandinavian brewery dominated the local scene for close to 30 years. Only in 1936 when British Jardine Matheson launched their EWO brand, the beer market heated up and the long-held no 1 spot of U.B. became seriously contested.
But even before that in around 1933, the French - arguably least known for their brewing skills - realized the potential and started a beer plant called the National Brewery (J. Azadian Societe Anonyme). The mastermind and owner behind the endeavor was N.J. Sbath, successor to the long-time French Shanghai resident and silk merchant Jacques Azadian who passed in 1929. The company's main office was located on 4 French Bund, while the brewery itself was initially on 471 Av. Joffre, then later on 120 Great Western Road. It was managed by the chief brewmaster Mr. Carl Krueger, who, in the company's own words, was "internationally known and in fact, was chosen by the National Brewery, from among the finest brewmasters in all of Europe".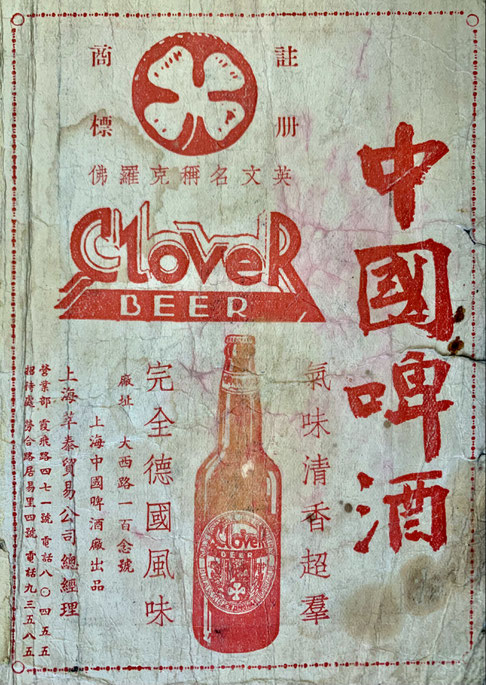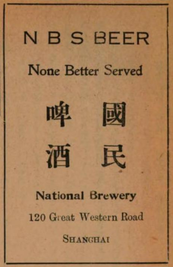 After a first failed attempt with the "Clover Beer" brand, despite marketed as authentically German, heavy promotion on XQHE radio and in Jimmy James St. George's restaurant,  the National Brewery made its first big splash with the newly created N.B.S. ("Non Better Served") 国民啤酒 brand at the 1935 Better Homes Exhibition, where it had temporarily built "a picturesque beer garden with a pretty Bavarian maid who waits on the visitors", as the local press cheerily reported. 
It would soon clash with the mighty incumbent U.B. , in what became known as the Shanghai Beer Bottle Battle.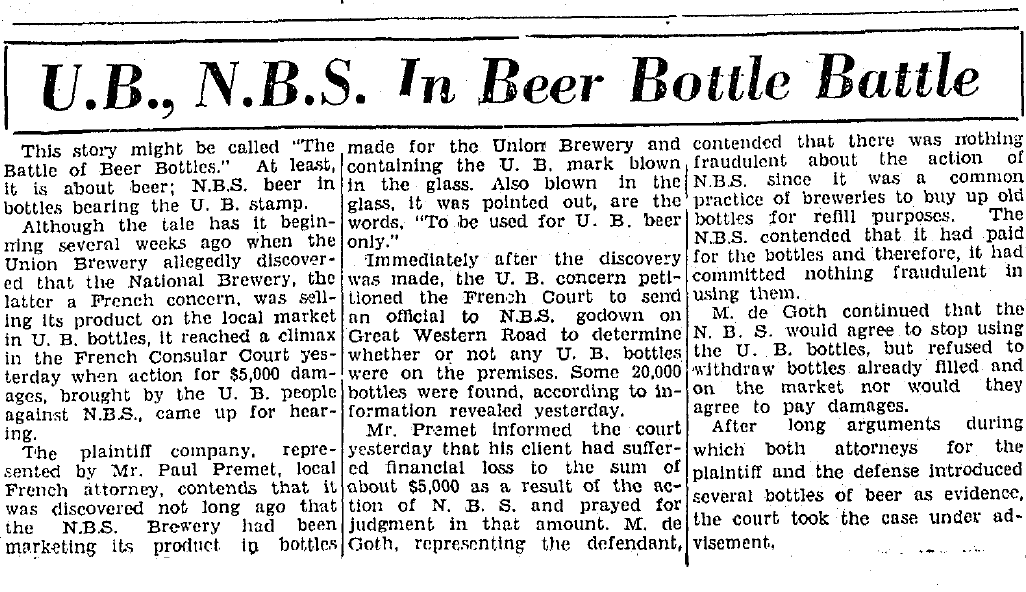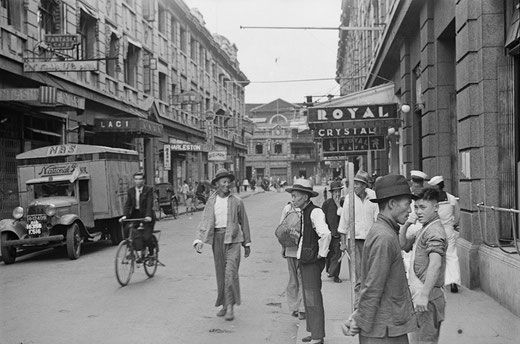 Compared to U.B. and EWO, the National Brewery was a much smaller concern and N.B.S. beer never gained significant market share in Shanghai beyond being served in lower class dive bars and few restaurants. Just prior to the Beer Bottle Battle with U.B. it was haunted by an explosion at its plant in January 1937, which killed one Chinese worker and badly wounded a Russian who later brought suit against the company in the French Consular Court. In 1939 it had a fall-out with its distributor S.A. Racine & Cie and soon after rumors were circulating that it had changed hands and ownership. After the war in 1947 in fact, National Brewery was under control of the Ministry of Economics KCA District delegates office and vanished soon thereafter.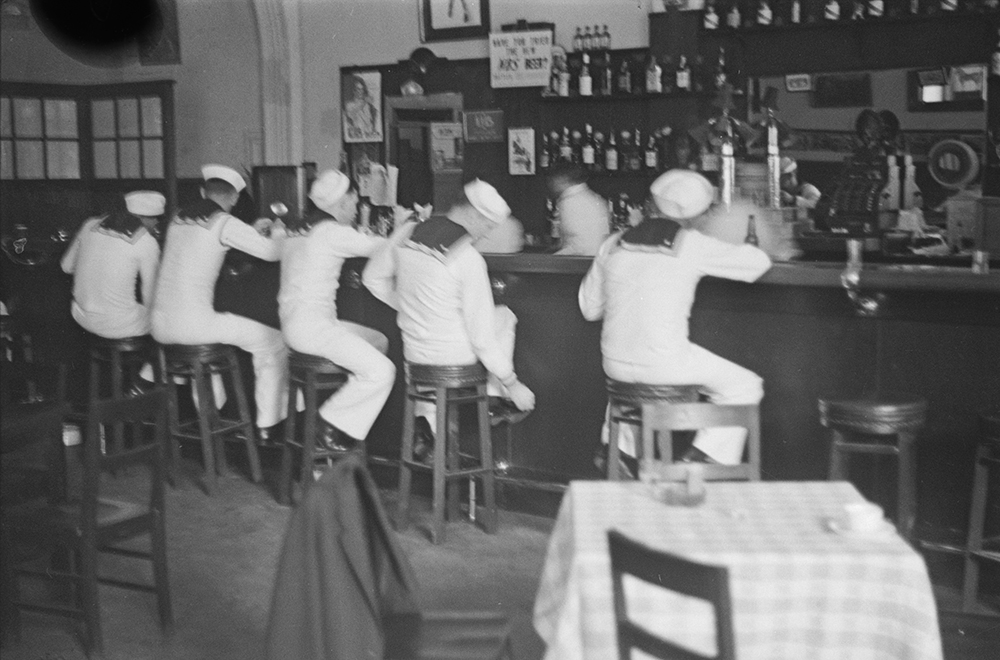 A final fun fact is that the U.B. beer bottles that N.B.S. reused were produced by the Tsing Hwa Glass Factory, which ironically also produced the bottles for U.B.'s main competitor EWO. What went around came around in Old Shanghai...