An edited and enhanced version of this article was published on Historic Shanghai. If you are based in Shanghai we highly recommend their historic walking tours.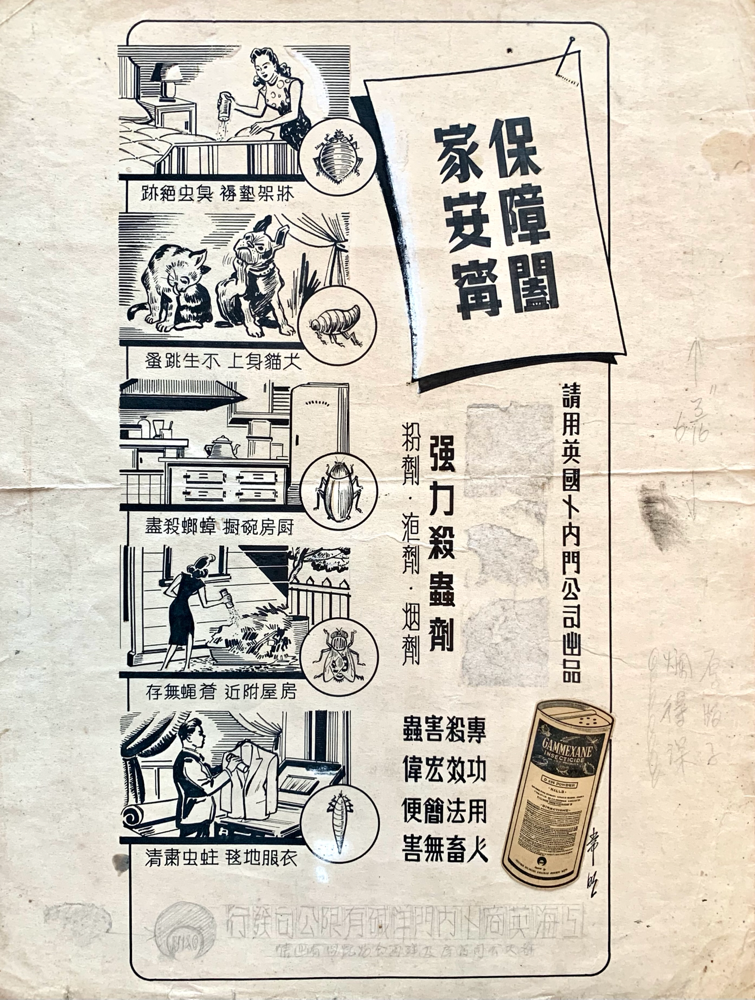 A unique glimpse at the creative process of a Chinese advertisement designer in the mid to late 1940s: the poster features illustrations of the product applications, hand-drawn lettering and a glued-on product packaging cutout (in case you didn't know where the term "cut & paste" came from...). The manufacturers company name and crescent moon logo remain unfinished: the outlines having been sketched but not inked. Why the poster was never completed we do not know. No traces that Gammexane was ever formally advertised or sold in China was found and so this might represent the only draft created while the brand ended up never being launched. In 2009, the production and agricultural use of Gammexane's underlying molecule lindane was banned under the Stockholm Convention on persistent organic pollutants.
Close-ups of the drawings, lettering and inking
BM&Co, I.C.I. and AstraZeneca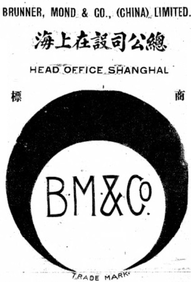 Imperial Chemical Industries (I.C.I.) was founded in December 1926 from the merger of four companies: Brunner Mond, Nobel Explosives, the United Alkali Company, and British Dyestuffs Corporation. For much of its history it was the largest chemical manufacturer in Britain.
The Gammexane brand was created in 1943 based on a new type of insecticides developed as result of wartime discoveries by I.C.I.
Out of the four companies forming I.C.I., Brunner, Mond & Co was the most recognized in China, having setup their operations in Shanghai as early as 1890. In 1923 the company erected its own building on 133 Szechuen Rd., just behind the Bund and which was later renamed to the Imperial Chemical Industries Building. Besides Shanghai BM&C also maintained office buildings such as in Tientsin on the Russian Bund, Cheefoo (now Yantai) and Chungking (now Chongqing) as well as leased warehouses such as e.g. in Qingdao where the company rented the ground floor of Butterfield & Swire's sugar godown*.
The company's famous logo featured BM&Co under a crescent moon and it was so well-established that I.C.I. continued to use the BM&Co brand (卜內門  /Bu Nei Men in Chinese) to advertise it's products in China. By the mid 1990s I.C.I. and BM&Co's business eventually became what we know today as AstraZeneca. You can find a complete write-up of the companies history in China by Duncan Hewitt on Historic Shanghai's blog.
Brunner Mond Building in Shanghai
From a recent autumn 2021 visit.
---
Thank you to our friends at Historic Shanghai for syndicating this article on their website and *Nicholas Kitto, the author of the fantastic photo book "Trading Places", for his inputs on other BM&C outport locations besides Shanghai.