DKW-Spiegel magazine from the M.O.F.B.A. collection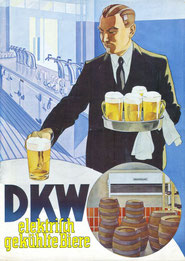 The Deutsche Kühl- und Kraftmaschinen GmbH (German cooling and power machines Ltd.) was formally incorporated 1931 in Scharfenstein, Saxony. Its "DKW Kühlung" brand became renowned globally for refrigeration machines and refrigeration units.
Revenues increased from 4.1 million Reichsmark in 1932 to 15.9 million in 1938 when the company reached as many as 1,200 employees.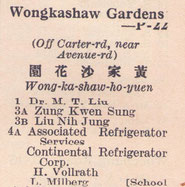 DKW soon also expanded to the Far East.
In China the general representative was the Continental Refrigerator Company (康太電氟冰箱公司), located in Shanghai's Wongkashaw Gardens on Carter Road near Avenue Road. 
This page from the company's "DKW Spiegel" magazine features three case studies of successful deployments of DKW cooling systems in Shanghai. The first one is the German Café Leinemann on 870 Bubbling Well Rd - a go-to location of Shanghai's German community in the 1930s. The second one is (Van's) Dutch Village Inn on 719-721 Bubbling Well Rd (later 15 Love Lane) – "the only Dutch restaurant in Shanghai". The third case study displays the photo of an unknown Western butchery with Chinese sales staff, titled "Also in the Middle Kingdom one can today see new age butcheries with DKW cooled shop counters, refrigerators and cold storage rooms."